Little 5 Points Ranks Second for Creative 20-Something Artists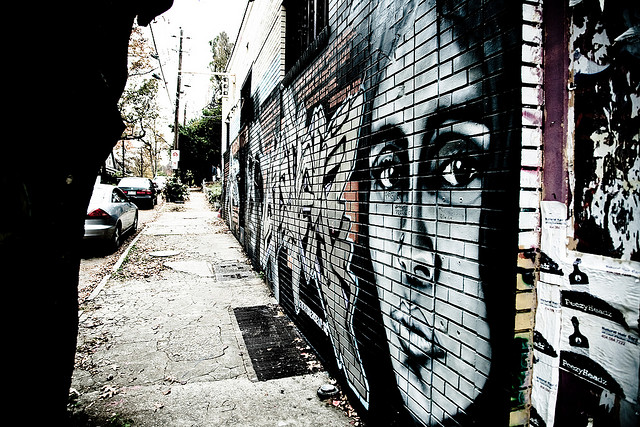 So those New Yorkers are a pretty creative bunch, huh? They gave us the hipster revolution with Girls, the Harlem Renaissance and a little stretch of pavement called Broadway. So as the creatively-inclined millennials cut their teeth in the Big Apple, where exactly would a creative artist-type look to escape if the mean streets that inspired Martin Scorsese chewed them up and spit you out. Atlanta of course, or more exactly Little Five Points.
PolicyMic did a feature article last week looking at the cities outside of NYC that are brimming with intellectual curiosity and creative flavor. Wilmington, North Carolina took top honors because it was the epicenter of teenaged angst courtesy of Dawson's Creek. But seriously, Wilmington is attracting the movie industry in droves. Iron Man 3, The Conjuring and FOX's Sleepy Hollow are simply a few productions that have come to call the coastal town home. I guess someone should have clued the writer in on the caravans of movie stars flocking to the ATL for their close-up.
Little Five slotted in as second on the artist friendly list. PolicyMic writer Candy Washington says of Little 5, "Known as the bohemian mecca of Atlanta, Little Five Points is home to artists, musicians, actors and other creative professionals looking to make their mark on the world — on their own terms." She goes on to talk about all of the creative outlets that exist for artists in the neighborhood from 7 Stages to The Variety. The Porter got a shout out as some of the best beer in the country. Tap aficionados agree.
Rounding out the top five cities, we have Providence, New Orleans and Portland. All fine choices, but this list really needs to be fleshed out. Make it a true top ten and highlight the cool things happening in places like Santa Fe and Austin. Regardless, its nice to see the writer eschew the temptation of lumping Little Five Points into Atlanta as a whole and highlighting the uniqueness of the neighborhood.
Image: Robert Occhialini | Flickr