Zesto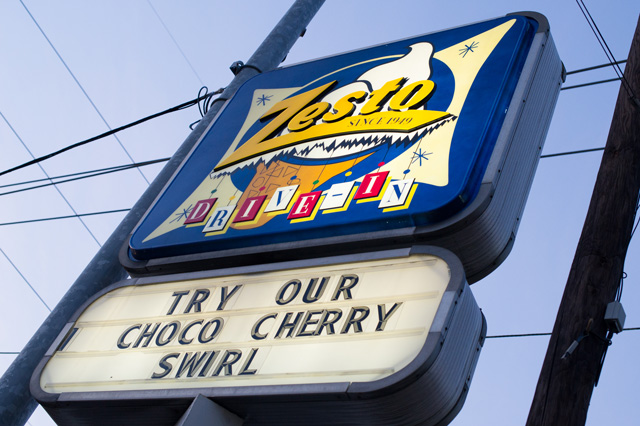 377 Moreland Avenue, NE / Atlanta, Georgia 30307 | 404-523-1973 or 404-523-2012 | http://zestoatlanta.com
For many, there's nothing like walking into a family-owned restaurant, full of red vinyl seats with chrome trim and bright, neon lights. Zesto is that place; full of nostalgic retro charm with a little art nouveau thrown in.
Opening its doors in 1945, Zesto started as a subsidiary of Taylor Freezer Corporation, based in Rockton, Illinois. The Zesto name was born from "Zest-o-Mat", the soft serve ice cream machine made by Taylor Freezer. The company first opened Zesto to compete with Dairy Queen as an ice cream only store. By late 1949, the company prospered and grew with locations in 46 states.
Then in 1955, Taylor Freezer Corporation dropped the ice cream only idea, leaving its franchises, literally, out in the cold. One franchisee, John Livaditis wanted to breathe new life into his locations and added burgers to his many Atlanta outlets. As business grew, he gradually added fries, hot dogs, and fried chicken.
Today, Zesto offers eight different burgers, hot dogs, specialty sandwiches, wings and chicken, and five different sides as well as their soft serve ice cream selections.
Zesto has a burger style similar to McDonalds, with their flagship burger, the Chubby Decker consisting of two patties, a middle bun, lettuce, cheese, onions, and pickles. Another interesting bit of burger trivia; the Chubby Decker was added to the Zesto menu in 1959: eight years before the Big Mac introduction.
However, the likeness ends there. Zesto cooks their food to order with the burgers sporting a pink center, giving proof of being fresh cooked.
Even with all the varied food items on the Zesto menu, soft serve is still the star of the show. Their nostalgic frozen offerings are genuine ice cream, not the ice milk mix you find in most soft serve shops. Or as Zesto likes to brag, "It's real ice cream, not ice milk like some of our esteemed but misguided competitors."
Zesto turns out sweet offerings of ice cream cones, a chocolate dipped cone called the Brown Crown, banana splits, sundaes and shakes, and Arctic swirls. They take pride in offering old fashioned real ice cream and real milk shakes.
Today, there are six Atlanta area Zesto restaurants still doing things the same way for over 50 years.
Hours are:
Mon – Thurs 10AM – 11PM
Fri & Sat 10AM – 12AM
Sun 11AM – 11PM