Wrecking Bar Brewpub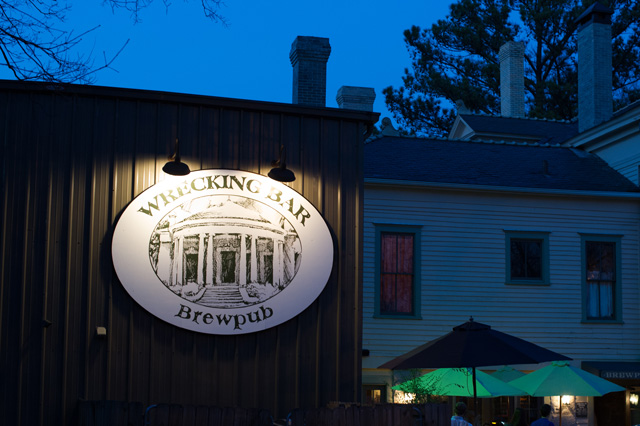 292 Moreland Ave NE, Atlanta, GA 30307 | (404) 221-2600 | http://www.wreckingbarbrewpub.com/
Chosen the Best Brewpub in Atlanta 2011, 2012 and 2013, Wrecking Bar Brewpub offers Little Five Points a changing selection of beers brewed on site.
Boasting a varied and colorful history, the Wrecking Bar Pub building is one of Atlanta's historical sites, which combines late Victorian and eclectic styles. Built just before 1900 by Victor Hugo Kriegshaber, an Atlanta cultural and economic development leader who lived there until 1924.
Besides being a 20th century Victorian-style home, the pub housed a Methodist Protestant church and a dance school and most recently the Wrecking Bar architectural antiques store. Then on June 19, 2011, Bob and Kristine Sandage gave the Kriegshaber House basement a new life as the Wrecking Bar Brewpub.
Wrecking Bar Brewpub is 1.1 miles north of I-20 on Moreland Avenue, just a couple blocks south of Little 5 Points. The Victorian-style home has a semicircle of columns gracing the front of the grand building. The first floor houses the event space known as the Marianna, while the hub of activity is in the basement, where you will find Wrecking Bar Brewpub.
The once, graffiti covered eyesore is stunning both inside and out. The pub is an underground cave-like maze with a mixture of comfort and old English pub hospitality mingled with modern design giving a posh rustic feel. It's like walking into a wine cellar with exposed stones and an intimate bar setting separate from the restaurant. At the back is a lounge area providing live music on Sundays.
As well as a great selection of American and European style beers, Wrecking Bar Pub serves a wide range of inventive, brewed on site beers, barrel aged to give multiple layers of flavor. You will find some unusual styles like German IPA, a California Common, and a West Coast double IPA.
Wrecking Bar Pub uses a 7 barrel (BBL) brewing system consisting of mash tun, brew kettle, five fermenters, and six serving tanks. Brewed styles run from light to dark and hoppy to malty, offering the following:
• Kolsch, Blonde Ale, or Light Lager
• Wheat Beer
• Amber Ale
• Porter or Stout
• Pale Ale, IPA, or Double IPA
• Belgian Ales such as Pale, Dubbel, Tripel, Quad
• German styles such as Gunkelweiss, Roggen, or Bock
• Imperial Stout
• Barleywine
• Specialties such as Smoked or Wood-Aged Beer or Sour Beers
• Cask Ales
Regardless of which brew you prefer, you will find the taste clean, crisp, and enjoyable.
Make sure you visit on Friday and sample their weekly creative cask beer. Served at proper temperatures with great carbonation, it's a must try. If you want to sample various beers, Brewpub offers a half-pint size. Expand your palate even further and stop by for their weekly Brewpub tours every Saturday at 4:30 pm.
Beer isn't the only creative item on the menu. Chef Steve Mayer dishes up food just as creative and highlighting the pub's star attraction—the brews. Based on traditional flavors, Wrecking Bar Brewpub food choices provide the same attention to detail as their beers. Mostly simple and straightforward, the menu offers favorites like Brasstown beef short ribs braised in Jemmy Stout beer and roasted chicken brined in Belgium Wit. But be prepared for Brewpub's popularity with 90-minute waits for tables on Saturday night.
Service is top notch with Bartenders knowledgeable in the details of all beers on tap, and an available brewer or beverage manager to offer even more information about their beer. All service staff must pass a compulsory test on beer before hired.
HOURS:
Mon – Thu: 4:00 pm – 11:00 pm
Fri – Sat: 12:00 pm – 12:00 am
Sun: 12:00 pm – 11:00 pm
Photo: Mark Runyon