Wax n Facts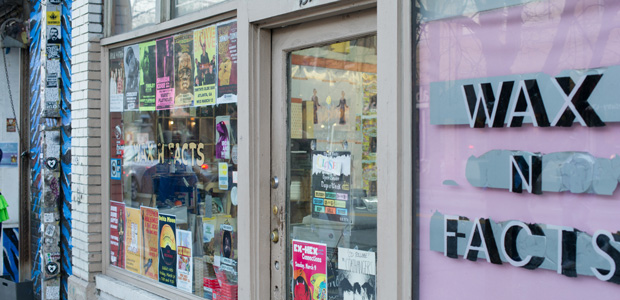 432 Moreland Avenue Northeast, Atlanta, GA | (404) 525-2275 | waxnfacts.com
Moreland Avenue houses the most eclectic and sometimes, the oldest stores in the funky and hippy district of Little Five Points, case in point – the 34-year old physical record store Wax N Facts.
Wax N Facts has been in the business of trading and selling old and new records – vinyl, compact discs, and even cassette tapes – since 1976. Despite the takeover of digital music as the staple audio format since the advent of file sharing and streaming, stores such as this never lost its appeal, well not totally yet. If no major improvements are done with the way they conduct their business, they might just be eaten alive by mp3s and mp4s and worse, by other physical record stores who learned to keep up with the times despite having vintage stuff as its prime commodity.
Of all the physical record formats that have come out, the vinyl have never lost its appeal. As such, Wax N Facts has invested in this particular interest for the wooden disc and began buying and selling both new and used stuff from and for avid and passionate audiophiles. Their stacks are neatly organized as each record is arranged in alphabetical manner according to genre. The new arrivals or newly released albums – whether by an indie or mainstream artist – are placed near the cash register near the store front. But just like other vintage and obscure record stores, the new releases by mainstream artists have already been picked through and most often, the stocks left are very few. But patrons do not come here for those, they come here for the hard to find records – mainstream oldies or vintage, or indie – and most of the time, they come here for the vinyl copies.
Although it has withstood the test of time, the majority of Wax N Facts' patrons and even first time customers agree that the store needs to keep up with the times. Yes it does have a website, but they do not offer an online shopping option, not even an online updated catalogue of their collection. Although, some really prefer to personally browse through the collection at the store as the time spent in doing so is worth it, it won't harm the business if they expand e-commercially. All the records, no matter how often they update it and no matter how precious these vintage stuff are, and all their staff, no matter how friendly and thoroughly helpful these guys may be, will all be futile unless they make the necessary advancements in their business, as other vinyl record stores have done.
Photo: Mark Runyon