The Vortex Ranked 30th Among 101 Best Burgers in America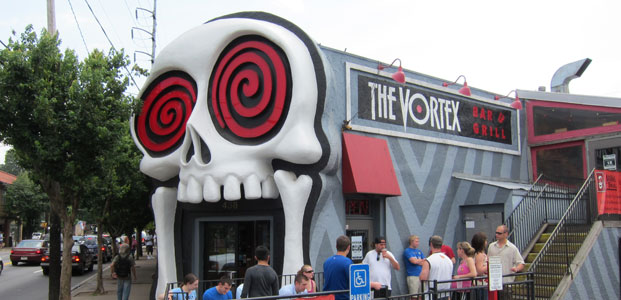 It seems the rest of America is cluing into what we already knew — Georgians flat out know how to make a hamburger. The Daily Meal published their findings of the top 101 burgers in America, and the metro-Atlanta area took five spots in the coveted carnivore list. Little Five Points own The Vortex, also with a location in Midtown, secured the number 30 slot with their tasty Hell's Fury Burger. Maybe it was the side of tater tots that sealed the deal for the tasting committee. The eclectic decor couldn't have hurt either.
The highest Georgia restaurant on the list was Holeman and Finch Public House in Buckhead. Their double cheeseburger took the vaulted honors of best hamburger in the Southeast coming in at the number 7 spot. Other Atlanta specialties included Ann's Snack Bar's Ghetto Burger at 45, The Varsity's double chili cheeseburger at 64 and Flip Burger Boutique's Butcher's Cut in Buckhead sealed the deal at 78. A lot of major U.S. markets didn't even have one burger on the list much less five. If nothing else, you could make quite a week out of hitting each of these up for lunch.
So who took the top honors? The Windy City's own Kuma Burger at Kuma's Corner is evidently the creme de la creme of hamburgers in our fair land. So in addition to grabbing a slice of deep dish now you also have to sample a Kuma Burger the next time you are in Chicago. Foodies, want the most bang for your travel buck? New York City has four of the top eleven hamburgers. I can't imagine there being many cows on Long Island.