Vortex Bar and Grill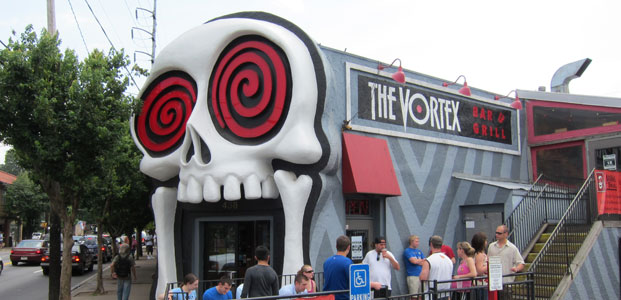 438 Moreland Avenue Northeast, Atlanta, GA | (404) 688-1828 | thevortexbarandgrill.com
Vortex Bar and Grill at Little 5 Points is quite a conspicuous place to begin with. From the massive skull display lingering at the entrance to the somewhat over-the-top colors used in the place's exterior, it seems like the place is literally inviting you in – and it might be a bad idea not to. Oh, and they are also claiming to have "Atlanta's Best Burger" — now how can you miss that?
In contrast to the exterior, Vortex's interior is a bit more laid back. You can either see bricks or blacks inside the bar. The interior may give you the impression that it speaks only to vintage, country and biker crowds. But it really isn't.
People who come into the place are from all walks of life, regardless of color or job, or whether a local or tourist, the place caters to everyone. The place is spacious and there is a lot of room to move around even when the place is fully packed. Some even take the time to sample new beverages like New Belgium Brewing's Fat Tire Amber Ale which is both light and good.
The menu is simple and can satisfy anyone's tastes. They have burger and sides that are cooked the way you want it. The zucchini chips are cooked to perfection – battered up yet crispy, thin sliced, and perfect with or without a ranch dressing. They also serve a plateful of nachos which is very appetizing. Their Ragin' Cajun burger is indeed raging with spicy pepper sauce, plus the patty is half pound and the sandwich stacks about four inches high, which says a lot about a raging burger. Plus the burger's price is very reasonable for a burger that juicy and thick. Indeed, they do have a shot for the city's "best burger" title.
The ambiance is relaxing especially with the live music being played. The guitar performance was decent, not like in some bars where it seemed like the amplifier was right onto your ears. The crew were very accommodating and efficient, especially the bartender who had to tackle about 20 beers in the stack along with the other bottles of liquor in the bar.
Vortex is a place in Little 5 Points that you could not and should not miss especially if you're looking for a good time with a few bottles of beer, a good burger, and good music and atmosphere.