Savage Pizza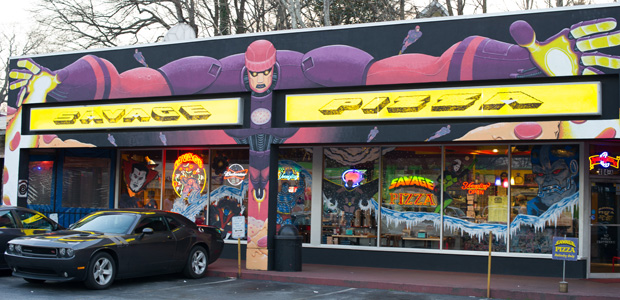 484 Moreland Avenue Northeast, Atlanta, GA | (404) 523-0500 | savagepizza.com
Contrary to its name, Savage Pizza located in Atlanta's Little 5 Points district is all about delicious hand-made dough topped with fresh ingredients and smothered up with homemade sauce to come up with the best tasting pizza in this side of Atlanta.
Savage Pizza is a landmark in L5P. It has been said that the pizzeria was spawned by the poet coined the Savage Messiah, thus the name of the place. The place looks very homely with all the comic book icons like Superman and Wonder Woman welcoming you to relax and take a bite.
The crew is very accommodating, always checks up on every customer to follow-up on their orders or to replenish their drinks. But the thing that sets Savage apart is their hand-tossed pizza dough that is always fresh, and so are the salads, sandwiches, calzones and deserts.
They also sell homemade sauces and meat and veggie toppings apart from the pizza so others can create their own Savage Pizza at the comfort of their home. They also offer delivery and catering services – perfect for parties or other small scale occasions.
Savage Pizza is really something that both locals and tourists should come to for a good time and a good slice of pizza. It really is a Little 5 Points treasure.
Photo: Mark Runyon