Rag-O-Rama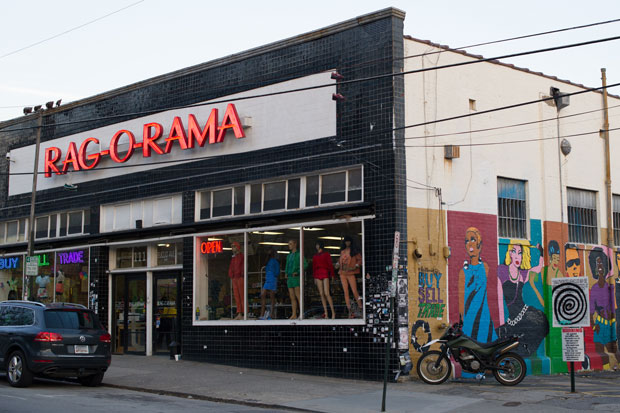 1111 Euclid Ave NE / Atlanta, GA 30307 | (404) 658-1988 | http://www.ragorama.com/
A clothing and accessories thrift store, Rag-O-Rama is located in Little Five Points and is an icon of the community. Insights Magazine's 2013 Best of Atlanta for Best Vintage Clothing Store and Best Consignment Store, the always busy and popular shop carries a large selection of both men's and women's fashions, in fun and funky styles. Their selection changes daily from the constant influx of new clothes coming in. If you're looking for retro, alternative, or stylishly edgy fashion, this is the place to go.
The store is large and roomy, with everything spread out and not jammed tightly into one little spot leaving plenty of room to shop and try things on. The clothing hangs on loosely packed racks to easily gain access to all the great clothing.
Like all thrift stores, some days are a successful hunt for amazing pieces while other days are not so great. But on any day you'll find a mish-mash of items: name brand and designer, mid level brands like Gap, vintage items and new items. The selections are varied and you'll find some hidden gems.
The men's selection is expansive with stylish denim, lightweight jackets, tees, buttoned down shirts, shoes and accessories.
If planning to sell your items, they pay on-the-spot with cash, check, or store credit for good condition items. They buy based on style, condition, season, color, size, label, and rack levels. However, be aware that they are selective in what they buy and only buy about 10% of the items brought in.