Psycho Sisters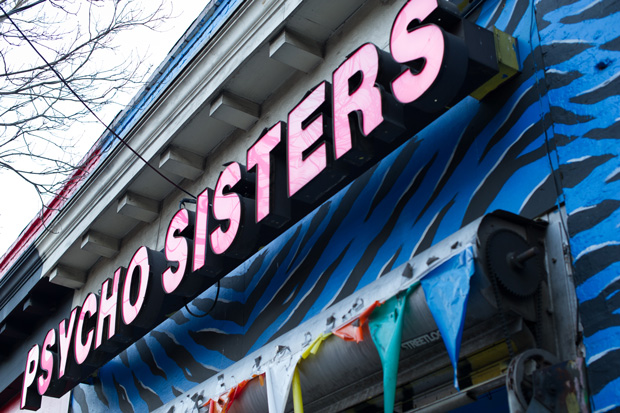 428 Moreland Avenue Northeast, Atlanta, GA | (404) 523-0100 | psychosistersshops.com
Still in the hippy and funky Little Five Points lane known as Moreland Avenue, there is a clothing boutique that sits comfortably along this area and is simply more than a consignment shop for staple brands like Levi's, Banana Republic, Gap or Betsey Johnson.
Psycho Sisters is just as eclectic as the neighborhood where it is located. Aside from used and new staple wardrobe, it also sells vintage and funky clothing accessories, the type when you wear all those stuff together, you'll look like a close friend or relative of Austin Powers. But these stuff – the vintage and funky wardrobe and accessories – when worn separately or mixed and matched with more modern clothing like a boot cut jean, a sexy tank top and some nice sandals, can give your look a whole new meaning. And if you dig that kind of thing, then you should definitely drop by Psycho Sisters.
The store has two floors. The first floor features all the usual clothing stuff – tops, shirts, pants, skirts, shorts, shoes, sandals, boots and must-see accessories. The second floor is a little bit more dramatic and theatrical – it contains all the kinds of costumes that you will need for any themed party or any season – Halloween, Yuletide – name it and you'll surely find it.
Many previous customers commend the store for having newly replenished stocks and newly arrived items almost everyday. Although most of the store's inventory is made up of costumes and vintage and funky wardrobe, many of these customers still think of Psycho Sisters as a valuable store in Little Five Points and a must-visit by both locals and tourists. Not to mention, the store's staff is very helpful and very friendly. However, their opinion is divided whether the prices of these items are reasonable or a tad pricey. Well maybe that's something that you should see for yourself when you pay this store a visit.
So get funky and stylish all at the same time by trying on the stuff that Psycho Sisters has to offer – for any age, any dress size, any gender, any style.
Photo: Mark Runyon