The Porter Beer Bar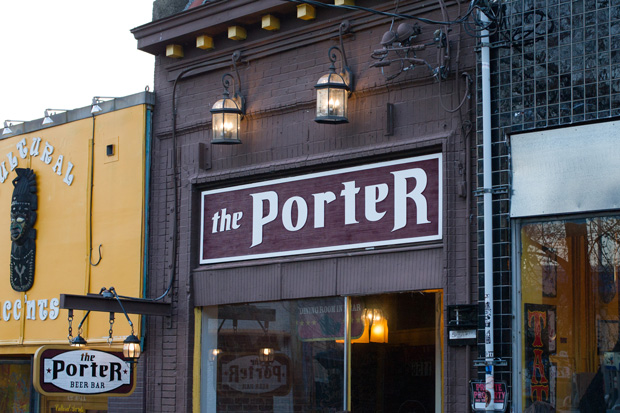 1156 Euclid Ave NE, Atlanta, GA 30307 | (404) 223-0393 | http://www.theporterbeerbar.com/
It's Friday night, Little 5 Points traffic is sluggish, at best, and the sidewalks are filled with people. Driving around searching for the ever-elusive parking space, a small compact backs up. Finally, you think, slipping between a construction truck to the left and a "soccer mom" van on the right.
Entering the narrow building, your eyes take time adjusting to the dim interior. The space is crowded and the greeter tells you it's a 25 minute wait. Leaving your name you find a place to stand next to the bar. While you shift from one foot to another, all you can think of is sitting down and quieting your rumbling stomach with some infamous Porter Beer Bar mac-n-cheese and a cold draft.
Scanning the crowded surroundings, you feel at ease in the welcoming atmosphere. The crowd is diverse, with the hip and in, young tech students, nerdy beer experts, and couples enjoying the lively atmosphere that makes up The Porter Beer Bar.
For five years now, The Porter Beer Bar has been the place to be. With a massive menu of over 800 beers, it's no wonder Atlanta's beer connoisseurs make The Porter Beer Bar their favorite brew house. With a knowledgeable staff willing to help customers pick the perfect beer, even those not so beer savvy become frequent visitors.
Not a beer lover? Porter Beer Bar offers a full cocktail menu of unique wines, whiskeys, and liqueurs. Try their famous lemon ginger cocktail and a bowl of salt and vinegar popcorn, or dive into the food Creative Loafing calls "Best Bar Food."
The Porter Beer Bar is recognized by beer enthusiasts nationwide and highly rated by BeerAdvocate and Draft Magazine. With an extensive beer menu offering micro-brews and imports from 44 draft lines, two hand pumps and over 800 bottles, even the pickiest beer lover can find something to tickle their taste buds.
Throughout the year, The Porter Beer Bar sponsors community events like festivals and beer tastings, beer classes, and theme dinners. A yearly tradition bringing large crowds, is their January "Where the Wild Beers Are." The winter event highlights beers made with wild yeasts, which The Porter Beer Bar calls "funky, sour, and sasion-y."
Molly Gunn and Nick Rutherford are co-owners of this hip and happening establishment located in the heart of Little 5 Points. A thin, brick and mortar building, the bar and restaurant is dark and deep yet comfortable with hand-crafted wood furniture and exposed brick; a dream come true for the husband and wife team.
Nick, the chef at The Porter Beer Bar, offers a varied and tasty menu on his constantly changing specials page, with dishes like "Deviled Eggs went down to Georgia" and Georgia Red Clay. Their standard menu offers traditional bar food all made with fresh ingredients. Atlanta Journal Constitution calls Nick a "future super star chef" with a daily specials list featuring some of the most original fare in the city.
While Nick showcases his culinary talents, Molly helps Nick with managing the beer list, as well as running the marketing, accounting, HR, and service departments.
The Porter Beer Bar serves lunch and dinner, Monday through Sunday, with a Sunday Brunch menu known as "Hair of the Dog." If you're looking for good beer and good food all delivered in a friendly atmosphere, then make sure to pay a visit to Molly and Nick at The Porter Beer Bar.
Photo: Mark Runyon