Outback Bikes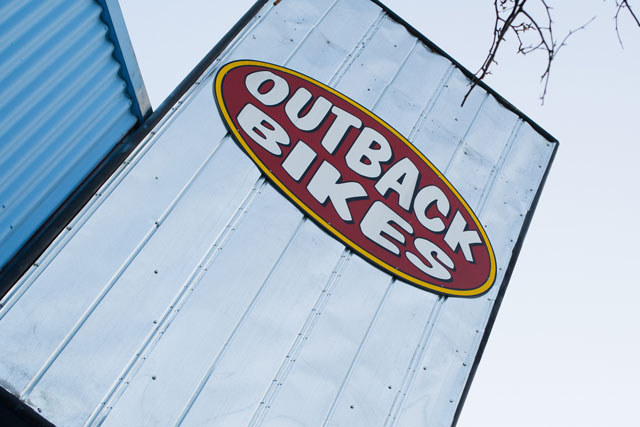 1125 Euclid Ave / Atlanta GA 30307 | 404-688-4878 | http://www.outback-bikes.com
Not your ordinary bike shop, Outback Bikes is modest, friendly, and probably has the least high-pressure sales staff you will find anywhere. While most bike salespeople try to convince you a $5,000 mountain bike is your best choice, Outback Bikes recommends the best bike for the customer's needs.
As you walk into the comfortable store atmosphere, you're greeted with rows of shiny, colorful bikes, stretching from the front of the store to the back, stacked from the floor to practically ceiling. There are Road Bikes, Mountain Bikes, Fixies, Commuters, BMX, Cruisers, and Hybrids all awaiting your inspection. You will find bikes suited for everyone's needs from the recreational cyclist to a seasoned athlete, or someone just curious about Atlanta's cycling trends.
These bikes are not what you find in the low price discount stores. Expect to pay anywhere from $250 to several $1,000 for quality bikes built to last.
The staff is knowledgeable and always willing to help. Just let them know what you want to use the bike for and give them a budget to work with. Outback employees take the time to fit the rider to the bike, ensuring you buy a bike to ride and not leave it sitting in the garage, gathering dust. You can even take bikes for a test drive before buying. Best of all, with any bike you buy from them, you will receive free maintenance for as long as you own the bike.
In addition to bikes, Outback carries specialized items including, clothing, gloves, shoes, helmets, tires, pumps, and saddles. You will find a full range of quality gear for all your biking needs and style.
With this type service, it's no wonder Outback Bikes has been voted Atlanta's best bike shop by Creative Loafing readers for the past 13 years.
Outback Bikes is a supporter of the Atlanta community with sponsorship of local cycling organizations and events, like Dick Lane Velodrome, GA Cyclocross, the Atlanta Bicycle Coalition, and the Georgia Tech Cycling Team.