Little Five Points Pizza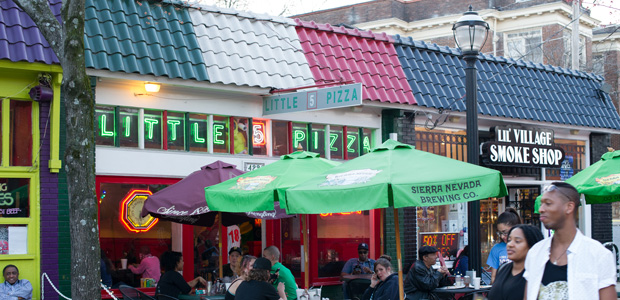 422 Seminole Avenue Northeast, Atlanta, GA | (404) 525-2530
Tourists and locals in Little Five Points have several of choices when it comes to pizza parlors, but people keep on coming back to Little Five Points Pizza for the great tasting pizza, pasta and sides, its affordability, the efficient service and, according to some previous guests, the friendly staff.
The interiors are relaxed, giving off a friendly and warm atmosphere that anyone would love to hang out in, although the conspicuous inflated crocodile back drop may not go in tune with the supposed relaxed mood, but despite this, this pizza parlor can still be a nice place to hang out in after work, or in between breaks, or when simply trying to combat boredom. Simply watching people pass by the store from the inside while eating a pizza slice or two is worth one's time and money.
Speaking of money, for less than $5 you can get yourself a couple of pizza slices plus a draft beer. Their pizza is kind of New York style with an Atlanta twist and you can get a slice for even $2 and less– now that's bang for the buck pizza! Many previous customers recommend the Pepperoni and Chicken Pizza, and the Spinach and Mushroom Pizza for vegans. Other best sellers include the lasagna and the spicy garlic bread served with marinara sauce.
While many previous customers think that the small floor area works towards the pizza joint's advantage by providing a relaxed and cozy atmosphere while enjoying the best pizza slice in this side of Atlanta, some think that once the place gets crowded and cramped up, it suddenly loses its homely appeal, but it only clearly speaks about the number of people who love and would come back to this place at any given free time and day. There are also mixed reviews with regards to the attitude of the staff, some customer's claim that this joint has got the most accommodating and friendliest staff that one can find in a pizza place while others seem to strongly think otherwise.
Regardless of what previous guests think of the interiors and the staff, Little Five Points Pizza still holds the distinction of not only having the cheapest and most freshly cooked pizza, but it also holds the distinction, among patrons and first time guests of having simply the best pizza, not only in L5P, but in entire Atlanta.
Photo: Mark Runyon