Envy Hair Salon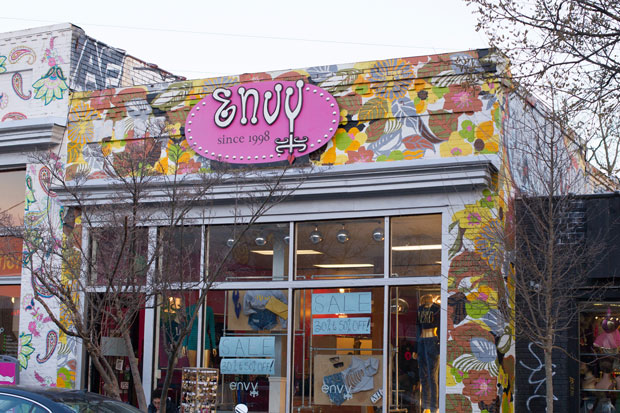 1143 Euclid Ave NE / Atlanta, GA 30307 | (404) 525-3689 | http://envyatl.com/
Since 1998, Envy has made their home in the heart of Atlanta's most eclectic shopping district, Little Five Points.
Run by a mother and daughter duo, Envy has an exciting and different selection of clothing, shoes, and accessories; all cute, hip, and trendy one of a kind. Envy offers items that make you stand out in a crowd.
As well as all the great clothing and accessories, you'll find a large selection of jewelry, with many pieces designed by the owner.
Envy's recent expansions offer a makeup store and hair salon, photo shoot studio, and their program Pretty Party. Pamper yourself with a new hairstyle, makeup, and glamour photo shoot. Pretty Party is for every woman with a dream of having a photo shoot like seen in magazines. Clients have a full glam experience with a talented team of professional makeup artists and photographers, while Envy's celebrity stylist, Jilene Coggins, creates a wardrobe style just for the client's photo shoot.
Pretty Parties are great for individuals or groups up to 6 people and includes: photo shoot makeup, dry hairstyling to suit your look, and a professional style wardrobe look chosen from the Envy Closet. The photo shoot session includes 100 photos of which you pick 5 for professional editing. Your chosen images are digitally delivered on CD with you keeping the copyright for making prints.
Envy's hair salon features stylists who work with all hair types and offer natural hair services, weaves, relaxers, trims, colors, and more. They also have a professional barber on site for men and women styles.
The Envy Makeup Bar carries Envy brand, pigment rich and fashion forward cosmetics as well as accessories. Professional makeup artists are on staff to give you a glam look for a photo shoot, a date night makeover, or just a day look for the office.
No matter what you choose, Envy has a full staff of knowledgeable fashionistas, to help you with a complete look from sweet and girlie, day time professional, to edgy rock star.