Criminal Records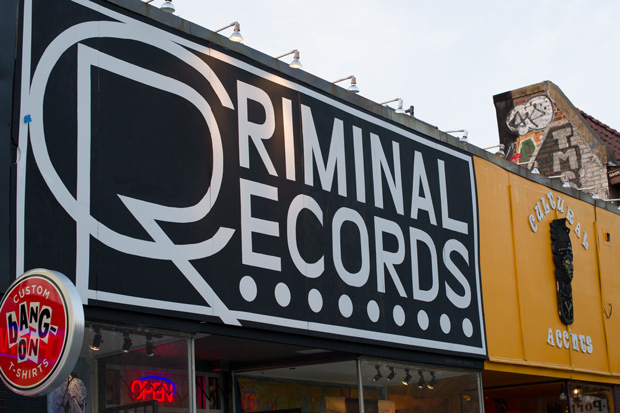 1154 Euclid Avenue Northeast, Atlanta, GA | (404) 215-9511 | criminalatl.com
In this digital age where music can be easily streamed and downloaded for cheap yearly or monthly subscriptions or even for free to say the least, you'd think that CDs and vinyl records are dead. But fact of the matter is, it really is a dwindling industry but there are still very few stores that keep that particular industry alive, one of which is Criminal Records.
Don't let the shop name fool you. This is not a branch of the feds or something like that. Criminal Records is a music and comic book shop situated in Atlanta's most artistically eclectic neighborhood, Little Five Points. They sell a wide range of physical music formats from CDs, vinyl records (all types – LPs, 7"s, 10"s and 12"s), DVDs, multiple disc sets, box sets and even turntables and accessories perfect for passionate music collectors. They also have an extensive graphic novel collection, posters, magazines and other stuff that are both new and used and even a cozy spot to hold short live performances, but Criminal Records is more known in L5P as one of the very few remaining physical record shops in Georgia and the only one in Atlanta.
The shop sells releases from both mainstream and indie artists, vintage and current, but people come here to sample and buy records that they cannot find in other record shops like Tower Records. They have the most extensive collection of indie albums, especially the hard to find ones and the classics, which is good news for indie artists because Criminal Records paves the way for them to be heard, discovered and make a profit – although meager at times – from their releases. Not only do they have the most extensive collection of the most obscure records that have been ever released, the prices are reasonable too and the staff is as equally as knowledgeable as the customers when it comes to their stuff – they really know their music. If the store doesn't have what you're looking for, they'll either order it in for you or they will suggest a close alternative so you'll end up still taking home something.
Their website also offers an online shopping option, and while some may find this convenient, some music lovers would personally drop by and take the time to hear samples from their very extensive and constantly updated collection of records, browse over their comic book collection or just hear a band perform in one of their in-store performances, because the experience is golden. Whether these people end up buying something on their way out or not, being in this indie heaven is an experience worth coming back for.
Photo: Mark Runyon