The Clothing Warehouse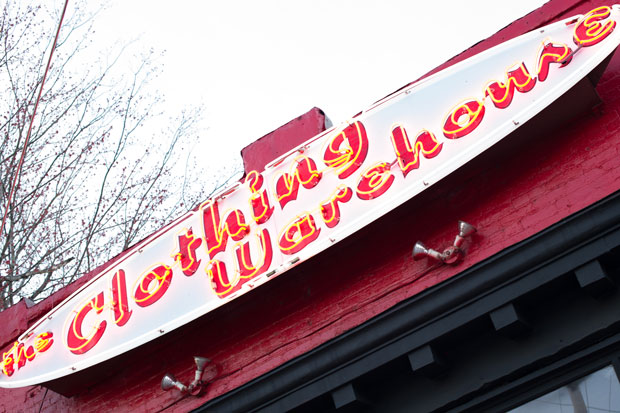 420 Moreland Avenue NE / Atlanta, Georgia 30307 | (404) 524-5070 | http://theclothingwarehouse.com/
With a dream of working in fashion, Jim Buckley, an Ohio farm boy, made the move south where he and a friend started a vintage exporting warehouse.
As their inventory expanded, Buckley turned the front of the warehouse into a small retail outlet. The Clothing Warehouse opened its doors in 1992 and he started sharing some of his original and unusual finds with the citizens of Atlanta.
With word quickly spreading, stylists and celebrities made The Clothing Warehouse the place to go for the world's most unique vintage clothing. As interest grew in the Warehouse's items, Erin Faulman joined the team in 1995, bringing with her an inborn style sense and an eye for vintage clothing.
Within the next five years, their inventory expanded along with their base of loyal customers, and The Clothing Warehouse opened a second location in Little Five Points. A bright red building in the center of everything, the Little Five Points location buys and sells used, days gone by, men's and women's quirky clothing, footwear, and accessories.
With the growing success of The Clothing Warehouse, Faulman and Buckley wanted to share their success with the world and opened new stores nationwide, with plans to open more stores. In Atlanta, there are two locations; the Little Five Points and a midtown location.
The atmosphere of The Clothing Warehouse is half the fun of shopping there. Styled mannequins randomly stand around the store while aged art decorates concrete walls. Sitting in the middle of the store is a glass island full of bangles, necklaces, sunglasses, and any other accessory you can imagine.
Moving around is easy with its openness, organization, and thoughtful merchandising, making choosing the right piece a breeze. Buckley uses and innovative approach in creative display of his product. Unlike most vintage store's, everything is well organized, with orderly racks of clothing organized by style and color block. Even special attention is paid to clothing protection with plastic shoulder coverings; another sign of their attention to every detail.
The Clothing Warehouse employees are knowledgeable of the inventory and know how to sell it. They are upbeat and friendly, always willing to help you choose the right item.
With the popularity of The Clothing Warehouse, the perception of what vintage clothing stores should be is now redefined.