Charis Books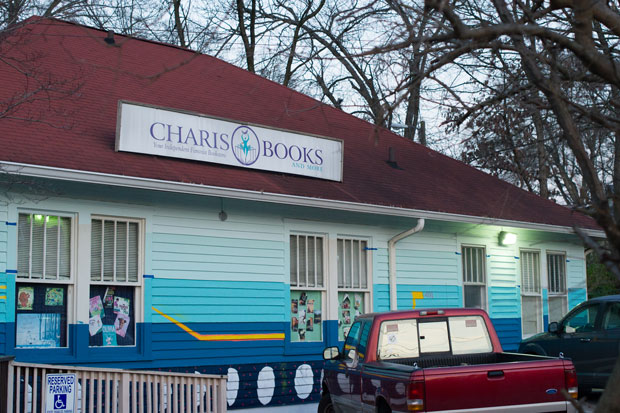 1189 Euclid Ave NE / Atlanta, GA 30307 | (404) 524-0304 | http://www.charisbooksandmore.com/
Charis Books and More, has been a central fixture in Little Five Points since November 1974 and is one of the oldest independent feminist bookstores in the country. The store's rich history is interwoven with its customers, staff, partners and supporters, as was well as the feminist and lesbian feminist movements.
The first ten years of Charis's history shows how people and politics affect and is affected by one another. Members of a lesbian-feminist community, located in Little Five Points and Chandler Park, patronized Charis in the 1970s. These women identified with the neighborhood, women owned store and recognized how important their written texts were to the lesbian-feminist movement. Atlanta's lesbian feminists started shopping at Charis and talking to the owners. This led to many of the lesbian feminists becoming volunteers.
Eventually, Charis developed into a feminist bookstore, run by lesbians and featuring lesbian-feminist books. Today they specialize in diverse and unique children's books, feminist and cultural studies books, Lesbian, Gay, Bisexual, Transgender, and Queer fiction and non-fiction books.
The interests and needs of Little Five Points residents shopping at Charis changed the store's focus and the books they carry. This is a store where people talk about books and ideas; a place where people are treated with respect no matter their background: progressive or radical, anti-war, anti-hate, and anything in between.
When walking in the door, you feel valued and welcome by a knowledgeable staff ready to help you. The store is small and the book selection not as large as the bigger stores, but the variety is extensive with regular book rotation so you'll always find something new. If you can't find what you're looking for, ask any of the helpful staff and they will happily order it for you.
If you are looking for a service provider, Charis also has updated information for customers looking for services such as therapy, pet sitting, bike repair, and more. Offering a service? They also allow you to place your business card in the services binder.
Charis is deeply committed to the community and offers a wide range of events and programs covering various interests including: a Feminist Inaugeration Day Gathering and a writing workshop open to all writers called, Writing with Intent. Charis also hosts regular writing and reading groups, speakers, events, readings, lectures, and visits by special guest authors.