Cameli's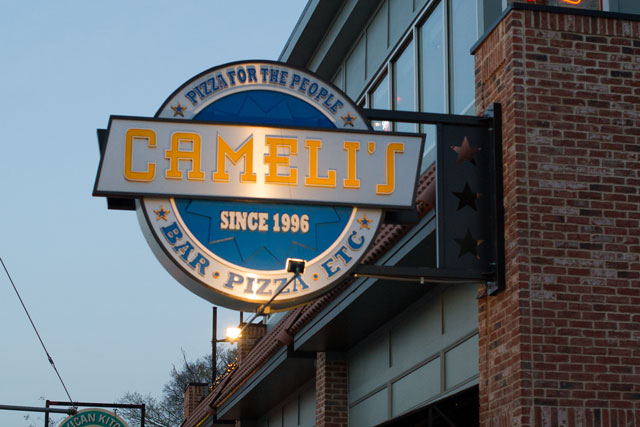 337 Moreland Ave. / Atlanta, GA. 30307 | (404) 522-1624 | http://www.camelispizza.com
Where can you find Monster Slices of pizza that fill the belly and seasonal craft beers to wash it down? Cameli's is the place for Monster Slices and more.
Cameli's, known as Pizza for the People, entered the Atlanta Scene on Ponce de Leon Avenue in 1996. Today, they boast a second location in what many call, the most creative part of town; Little Five Points.
Family owned and managed, Cameli's uses fresh vegetables and herbs in all their food items and their dough and bread is made fresh each day. Only the highest quality food at a great value is good enough for Cameli's guests.
One of the main attractions of Cameli's, other than the great food, is the building itself. Inside you'll find colorful wall art featuring various beer and soda brands, mingled with images of Batman, Stormtroopers, and Transformers. But the favorite with locals is Cameli's rooftop patio.
The patio is pine wrapped and awning covered, with lush plants scattered throughout and a spectacular view of the downtown skyline. Beautiful slatted wood tables and benches add the final touch to this great dining area.
As much as the atmosphere is a special feature of Cameli's, nothing can compare to the star of the menu; the pizza. The sauce is the heart of the pizza; fresh and perfectly seasoned, flecked with fresh spices and bits of basil. Choose from four sauce variations: tomato, sun dried tomato, garlic, or basil pesto.
Bite into one of the specialty pizzas like the McLeod Nine, topped with baked chicken, garlic sauce, onions, roasted red peppers, and spinach. Not to your liking? Customize your own pizza with 27 customizable toppings, like salami, prosciutto ham, banana peppers, broccoli, mushrooms, and more. You can choose the style, like the half-moon shaped stuffed creation called Luna, the Classic hand-tossed, or the giant, 28 inch pie called the Monster; enough for the whole little league team.
Besides all the possible pizza choices, Cameli's offers appetizers and salads, Panini sandwiches, pasta dishes, three different entrees, a kid's menu, and dessert.
Every Wednesday night, starting at 7:00 pm, Cameli's hosts Texas Hold 'Em Poker. The top three players win house cash. So pull up a chair, order from a selection of 14 taps or 40 plus bottles and a monster slice of pizza for a fun filled evening.