American Apparel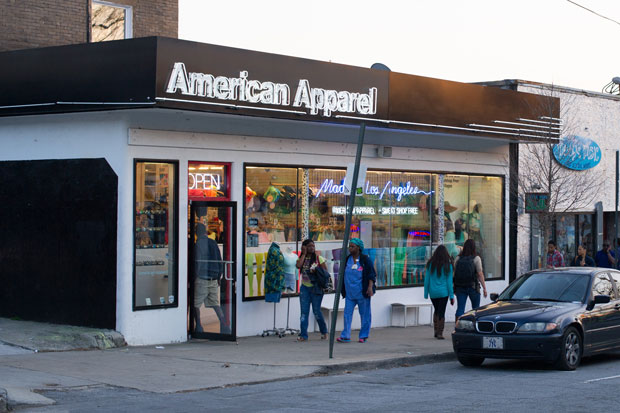 1133 Euclid Ave. N.E. / Atlanta, GA 30307 | (404) 880-8611 | http://www.americanapparel.net/
One of the few chain stores in Little Five Points American Apparel offers clothing all made in the U.S.A. and has a reputation for treating their employees very well. They support ethical practices for the clothing industry by paying their garment workers up to 50 times more than their competition pays. In Bangladesh, garment workers average earnings are $600 a year, while experienced American Apparel garment workers can earn over $30,000 a year.
Besides salary, workers receive comprehensive health care and other benefits. At American Apparel, the employees have careers, not jobs and are proud to call themselves "Sweatshop-Free". American Apparel recognizes outstanding performance and promotes from within the company. Employees are given a voice within the organization for influencing the company's direction.
Unlike their competitors, American Apparel makes their own products in the largest sewing facility in North America. By integrating their creative processes, manufacturing, and distribution, the company is more efficient than others who rely on offshore and subcontracting. With art, design, and technology leverage through their downtown LA campus, they can profit from the garments they sell while paying workers a fair wage. Sustaining and growing the business in this way benefits workers, customers, and shareholders.
American Apparel is also a supporter of free and fair trade. Of the company's 250 stores, almost half are outside the USA, with the company exporting hundreds of millions of dollars of Made in USA apparel each year.
Based in California, American Apparel sets a precedent for ethical and sustainable manufacturing. With an operation centered within a few square miles, the company's carbon footprint is smaller than their competitors. By recycling most of their manufacturing waste, in 2012 they were almost landfill free. They use solar panels and offset about 20% of electric use and ship most goods offshore with excess space on passenger flights and buses, further minimizing their impact on the environment.
If all of this isn't enough to get you by the Little Five Points location, then consider American made, quality clothing, and the staple of every hipster's closet. Selections range from vintage, to super cute, and back to basic. They offer a huge selection of V Neck and Jersey Crew Neck shirts in many colors, button shirts and jeans, and many bright neon color skirts and stockings.
American Apparel is a great addition to Little Five Points with their bright neon logo and overall hip design. While a small space, it's easy to find what you're looking for and there is always the friendly staff waiting to help.