Abbadabba's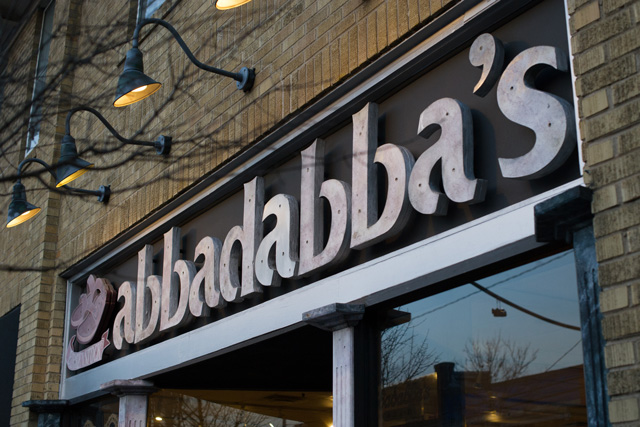 421 Moreland Ave NE, Atlanta, GA 30307 | 404-588-9577 | http://www.coolshoes.com/
Don't let the quirky name fool you, Abbadabba's is Atlanta's premier source in innovative comfort footwear.
Found at the intersection of Moreland, Euclid, and McLendon Avenues, in the Point Center building, Abbadabba's offers unique, funky, eco and vegan friendly shoes.
Abbadabba's, owned and managed by Janice Abernathy and her husband Bill Carmichael, opened in 1981 in Atlanta's alternative neighborhood, Little 5 Points. In the beginning, the store was like a flea market, selling toys, cards, gifts, and jewelry and to the back, a small selection of funky looking shoes. However, those funny looking shoes caught on, and in 1986, Bill left a career with Georgia-Pacific to join Janice full-time. Making footwear their main focus, a year later shoes were their top seller, accounting for most of their sales.
The Little 5 Points store, voted "Best Sneaker" store, offers Abbadabba's largest fashion athletic brands and boots selection. Some of the more popular brands:
• Toms
• Converse
• Dr Martens
• Birkenstock
• Dansko
• Minnetonka
• Chaco
• Vans
• Reef
• Rainbow
• Saucony
With the growth of the business and their reputation for comfortable shoes with great service, the Buckhead Abbadabba's store opened in 1990. The questionable checkerboard parking lot shocked some in Atlanta's "elite" district, but the unconventional company converted many to the comfort of their shoes.
In spring, 1998, Abbadabba's entered new territory again, by turning half of the Buckhead store into Georgia's first Birkenstock specialty store while gaining specialty store status at their other locations.
In 2007, developer Ben Carter quietly bought up property in Buckhead Village to create Buckhead Avenues, making way for housing boutique hotels, posh shops, and loft/condo homes. The Buckhead Abbadabba's was sold by the owner as part of the $800 million development deal, causing the store to move a few miles north. It didn't keep them down with the new store wearing a fresh new design, making the new Buckhead location a flagship store.
Their latest project focuses on Roswell with a store move after 18 years on the East side. In March of 2012, the new location opened on the West side of Roswell where Janice and Bill built what they consider their largest and most beautiful location.
Abbadabba's is about people: the people working for them and the diverse group of people making up their customer base. The service focused company has a passion for footwear which they share with their customers. Their mission is pampering customers with quality service not found in most retail stores.
Working with faultless integrity, Abbadabba's is a progressive company with sustainable business practices and a healthy respect for people and the planet.
Photo: Mark Runyon